Wellness Care
Our hospital offers quality care for dogs and cats of all ages, from puppy and kitten care and immunizations to lifetime preventative medicine! We believe that great, routine care such as annual blood screening, oral health procedures, and parasite prevention can give your pet the best chance at a long, healthy and happy life!
Immunization schedules are based on your particular patient's lifestyle, and adhere to American Animal Hospital Association (AAHA) and American Association of Feline Practitioners (AAFP) guidelines. Our doctors administer only quality-assured immunizations as recommended by the latest standards of veterinary medicine, including non-adjuvented feline vaccines.
Surgery
A wide range of services are available from routine spay and neuter procedures to advanced soft tissue, abdominal and oral surgery. Our soft tissue and oral surgery suites are quipped with the most advanced surgical equipment and patient monitoring devices.
Dentistry
Oral health is very important to overall health in our pets. SWVH is proud to include an oral exam during each patient visit to help owners understand what is recommended for both home and professional dental care. SWVH has digital dental radiograph capabilities as well as highly trained staff to ensure a complete and safe dental cleaning under anesthesia. The veterinarians at SWVH have attended various continuing education classes on pet dentistry and extraction techniques. SWVH also offers sealing or restorations to save teeth that have superficial fractures that have not yet invaded the pulp cavity.
Advanced Medicine
Advanced diagnostic and treatment services are also available. These include digital radiography, ultrasound, oncology/chemotherapy administration, dermatology, and internal medicine.
Domestic and International Health Certificates
Traveling abroad or to Hawaii with your four-legged companion can be very complicated. Stephanie at SWVH has experience sending pets to various countries all over the world successfully. All veterinarians at SWVH are USDA accredited allowing them to sign certificates after a complete physical. Please contact SWVH well in advance of your travel/moving dates so that we can assure that your travel is as stress free as possible.
Ultrasound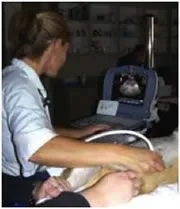 Dr. Rasmusson has attended many specialized continuing education training classes and clinics to expand her knowledge and expertise with abdominal ultrasound. This powerful diagnostic tool allows evaluation of the abdominal organs without anesthesia or surgery. Pregnancy is also easily diagnosed 25-30 days after breeding. As these images are digital, they are easily shared via email or compact disc.
Referral Network

Our patients benefit from the highest standards of care, including a network of local veterinary specialists providing surgery, ophthalmology, cardiology, dentistry and after-hours emergency services. SWVH works with these specialists to provide our clients with the best resources available outside our practice.